Tactics for winning
Talk to Alan Matthews when your tactics for winning seem jaded … when the excitement is gone, and something seems missing.
Alan is skilled in ways of communicating with the people, companies or other organisations whose decisions count. In particular, he can propose smart ways of winning worthwhile orders from business buyers.
"What you have given us is extremely valuable … getting us together and putting ideas into actions" — a Manager, construction firm, West Midlands
He will ask to hear about the aims and circumstances of a particular company, so that he can propose tactics to meet its specific need. A look into his portfolio will convey the variety of ways in which he has helped companies to go forward.
"An Estates Director wanted a whole set of case studies, by Alan, to read. With him advising on the presentation of the service proposal, also, business followed" — a facilities management Consultant, South Yorkshire–based, UK
Alan, whose CV boasts a spell in business–to–business selling, is a Chartered Marketer, a Member of the Chartered Institute of Public Relations and an accomplished direct marketing and editorial copywriter. He left big company life more than 25 years ago, lured by the challenge and satisfactions of helping small–to–medium sized companies to win.
If you need a particular result, and feel that you might benefit from some fresh thinking, Alan could be your man. Contacting him initially costs nothing — and it could be a landmark step in your achieving that next goal.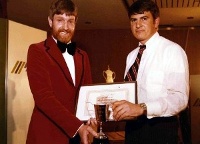 Hello!

I'm Alan Matthews. Welcome to my website!
I'm hoping that my capabilities will come over as that bit special, making the idea of my assisting you seem interesting. Because that's what it's about, isn't it? It isn't enough to be only good, in what we do: we have to rank among the best — and be able to demonstrate our particular differences!
You are where you are by virtue of your skill, ingenuity and energy. I don't know what you do, yet, or what you need. But if you will consider a contribution drawn from a different business background, from someone with highly developed communications skills, we should talk.
A while ago, I visited a contract cleaning company which was ready for more work to be won. The Managing Director's first question was: 'Have you worked with a contract cleaning company before?' I took a deep breath, and replied: 'No'. 'Good!' he responded. 'I'm looking for some completely fresh thinking …'. (We got on fine!)
Are you looking for some completely fresh thinking, by any chance?
With my good wishes,
Alan