Credentials
Alan Matthews is a Chartered Marketer, a Member of the Chartered Institute of Marketing, a Member of the Chartered Institute of Public Relations, a Member of the Institute of Consulting, a science graduate, and a holder of the Diploma in Management Studies.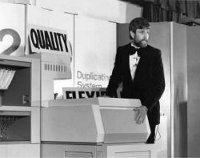 He was a systems development manager with the office solutions company Xerox before he applied to join, on full quota–bearing terms, its UK sales team. There, he won awards for his results, including for early completions, and became the national Xerox 9200 Demonstration Champion.
He moved on to product management, where his achievements included the successful launch of the Xerox 960 Systems Forms Printer.
"Great ideas from Alan for promoting the potential advantages of investment casting over machining" — Managing Director, leading metals casting company, West Midlands
After 12 years with Xerox, Alan left to join the young British company Metier Management Systems as its first marketing services manager. There, his team developed company and product promotional items and ran events, supporting the worldwide sales team through years of company growth.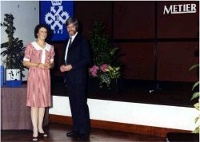 Alan moved on to become a senior public relations consultant with Carl Byoir & Associates (later merged with Hill and Knowlton). From the London office, he worked with 'blue–chip', technology–intensive clients such as Tandem Computers, Hewlett–Packard and The Institution of Electrical Engineers.
"We would not even think about commissioning a new advertisement or marketing strategy without involving Alan. His involvement with our business has been decisive" — a Partner, specialised engineering services firm, West Midlands
Alan set up his own consultancy and training firm in 1987, adapting his approach (after working with 'corporates') to suit the needs of small–to–medium sized companies (SMEs). His goal was to help SMEs to achieve sustainable advantage in competitive marketplaces.
He is an accomplished business–to–business advertising and editorial copywriter, having researched and drafted content to meet the paper– and web–based promotional requirements of companies in a range of sectors.
"Alan showed himself to be an enterprising and skilled marketing communications professional, able to work to deadlines while achieving a consistently high standard of work" — the Chairman, leading materials–cutting company, West Midlands
Alongside his consultancy work, Alan was contracted to serve as a Business Adviser with West Midlands Business Links, for 12 years to 2006. He conducted holistic reviews in a variety of business sectors, as well as providing advice and assistance in business development planning and through key–person mentoring.
"You will be greatly missed for your pertinent and challenging questioning … thanks for all your help and input" — a Director, a West Midlands–based Business Link, as Alan relinquished his advisory service role after 12 years
Alan was picked, in 2001, to serve on a taskforce to advise and assist West Midlands businesses in their recovery from the major foot–and–mouth disease outbreak.